Eastman Dental Care
Winning Patients' Trust in a Newly Acquired Dental Practice
Facing Challenges as the "New Dentist" in Town
When Dr. Chris Eastman bought an Iowa City dental practice from another dentist, he realized his dream of owning his own practice without the start-up costs associated with opening a brand-new office. Unfortunately, he faced a different challenge. Existing patients started dropping like flies. Instead of having a full roster of patients to treat, he faced gaping holes in his schedule.
Dr. Eastman had to find a way to stop patients from leaving. He also needed to attract new patients to fill the gaps in his schedule. He turned to Scorpion to partner with a team of marketing and branding experts who could help him establish a sterling reputation in his community.
No Room for Mistakes
Dr. Eastman knew the Internet was the best way to attract more patients, and he tried to market his practice on his own. He mailed out postcards, purchased print ads, and even set up a DIY website. When these efforts failed, it was time to change his strategy. "As a smaller practice, I didn't have the luxury to make mistakes," said Chris. "I had to partner with someone who knew what they were doing if I wanted to stay in business."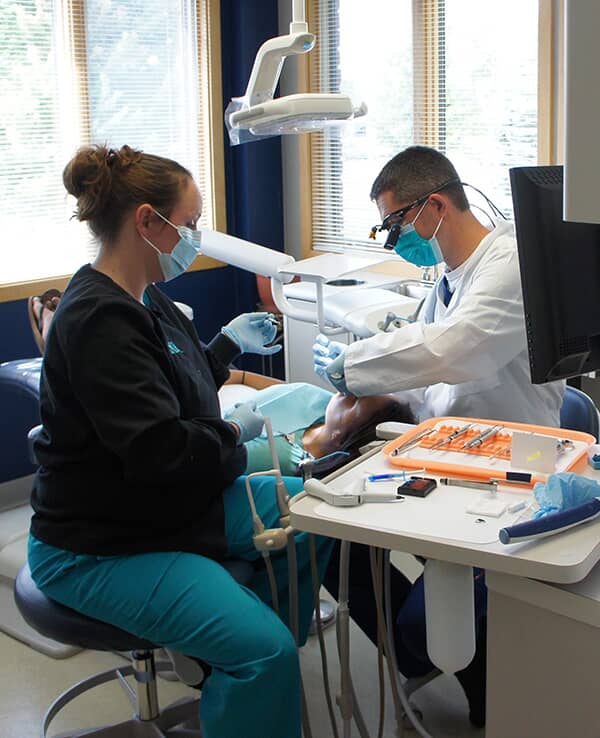 Scorpion Executions and Results
Conveying a Sense of Trust & Care

We knew Eastman Dental Care's website needed to be visually engaging, with the right type of messaging to resonate with new and existing patients. We also knew how function and structure would influence site visitors in their search for a local dentist. So, we designed a website that worked seamlessly and also conveyed the care and trust that patients need to see. Our writers and designers created the imagery and messaging that Eastman Dental Care needed to thrive.

Reaching the Right Types of Patients

Eastman Dental Care is located in a college town, but it wasn't primarily going after college students. Instead, the practice's ideal patients were local residents in their 30s and 40s with families who were going to stick around for years to come. Through targeted digital advertising, we put the practice in front of the exact types of people Dr. Eastman wanted to reach. He was even able to get down to specifics like the types of insurance they used.

Becoming the Go-To Dentist in Iowa City

The only way to become the first dentist people think of when they need a cleaning or any dental procedure is to stay visible and top-of-mind...and that means being present across a number of different digital platforms, not just search engines. So, we started sharing helpful content and attention-grabbing ads on social media platforms like Facebook and YouTube—and it worked. Patients kept coming in, completely filling Dr. Eastman's once spotty schedule.
A Partnership That Delivers Real Results
With Scorpion, Dr. Eastman has won the trust of local patients and created a reliable flow of new business and growth. Today, Eastman Dental Care has so many new patients that Chris is considering bringing on an associate.
Chris, we're happy that we've achieved this type of trust and growth in your community. Let's take it even further!
"Before, my schedule was spotty, which was frustrating because I had to spend all day at the office just to see a few patients. Now, I get to pack my day with patients. Every dollar I spend with Scorpion is a chance to be more effective in my business."

Dr. Chris Eastman

Owner, Eastman Dental Care