Creating a franchise website is no small undertaking. Not only do you need to think about the usual online best practices (such as making your website search engine-friendly or mobile-compatible), but you also have to worry about all the nuances that come with having numerous franchise locations. What's the best structure to use for a franchise website? And how do you properly showcase each of your locations?
Follow these 5 must-know franchise tips to boost your rankings in search engines and drive more customers to your locations!
1. Use a subdirectory structure instead of a subdomain structure (or, one franchise website as opposed to numerous websites).
Many franchises choose to create separate websites for each franchise location. This results in tens, hundreds, or even thousands of different sites all based on the same domain structure (i.e. "cityfranchise.com").
Instead, your franchise should have one website that serves as a directory for all your unique location-based homepages (i.e. "franchise.com/city"). By using this subdirectory structure, you strengthen your franchise's brand power in Google's eyes, as the search engine can clearly see that all your locations are tied to a single brand. In contrast, when you use a subdomain structure, Google assumes franchisees are different brands, which can dilute your franchise's online authority and reputation.
2. Create a local homepage for each franchise location.
While you should maintain uniform branding throughout your website, you don't want to lose sight of the local appeal of each franchise location. As a result, each location should have its own homepage. Your franchisees can customize these pages by using landmarks in their hero images (or main banner images) that are instantly recognizable to locals. They can also incorporate custom content related to their specific communities (including local lingo), creating a locally owned feel rather than that of a rubber-stamped website from a big, multi-location corporate brand.
3. Make your site conversion-friendly.
The purpose of your website is to get visitors to contact your franchise and become a new customer—so make it easy for them to take action! Display a large phone number high up on the page so it's clearly visible, along with a location search tab. Include calls to action (i.e. "Request a Job Estimate!") and contact forms above the fold, which means the area visible on the homepage without scrolling down. You should also make any incentive or coupons offered by your franchise easy to find so your web visitors don't have to hunt for them.
4. Set up IP targeting on your website.
"Near me" searches have have been on the rise, increasing 34x from 2011 to 2015 (i.e. "plumber near me" or "carpet cleaner near me"). With consumers relying more heavily on hyperlocal searches today (or searches based on their precise locations), you need to up your local marketing game. Set up your website for IP targeting. This allows your website to pick up the searcher's location, making it easier to get your site included in suggested results for nearby businesses.
5. Use unique tracking numbers for each location rather than the location's direct business line.
By using unique tracking numbers, you can easily collect web performance data for each location. You will see how many calls and contacts each franchisee is receiving from the website and your franchise's ad campaigns as opposed to other sources.
Need help setting up your website? Our franchise marketing experts at Scorpion would love to help! We have won more than 450 awards for our industry-leading web designs. Reach out to our team to get started.
---
About the Author
Stephen Bess is Vice President of Marketing Communications at Scorpion. He ensures that Scorpion's current clients are kept up-to-date on the latest digital marketing best practices, which they can use to grow their businesses. Stephen, who is Google AdWords-certified, is a graduate of Rice University in Houston, Texas. He has extensive experience in client management, marketing, and writing.
Prior to joining Scorpion, Stephen spent more than 10 years in the print, web, and digital publishing industry as a head editor of several magazines. He is also a former professional athlete of the Detroit Tigers. In his spare time, Stephen enjoys watching Food Network, cooking, and visiting California's wine country areas with his wife and his daughter.
---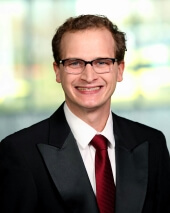 About the Author
Dasch Shenberger is Vice President of Franchise Marketing at Scorpion. As a Google- and Bing-certified digital marketing professional with years of experience, he has helped hundreds of franchisors and franchisees across the nation grow their brands and revenue. Dasch is a die-hard Lakers fan who enjoys reading and watching science fiction movies.