To be successful in the franchising business, you have to find just the right balance of control and flexibility in your franchisor/franchisee relationship. Your online marketing is one area where you will need to find the right level of give and take as a franchisor. It's all about knowing when to enforce consistency and when to let your franchisees embrace their differences.
Below are a few tips to help your strike the right franchisor-franchisee balance in your marketing strategy:
Tip #1
Establish branding rules and guidelines to maintain marketing consistency throughout your franchise network. Your brand is the bread and butter of your franchise company. Brand recognition and reputation are a major part of what will attract both customers and franchisees. As a result, it is important that you remain in control of how your brand is being represented by each of your franchisees. Create a comprehensive brand guide that covers all the bases, such as how your franchisees should use logos and trademarks; what types of colors, designs, and messaging your franchisees should use in online and offline marketing; rules for representing the franchise online (such as in website content, blogs, and social media); and more. Town hall meetings and webinars are great ways to provide your franchisees with the training and support they need to meet your marketing guidelines.
Tip #2
Allow your franchises to showcase their unique stories and strengths. Do you have a place on your website to feature information about each of your franchise locations? If you have web pages or even entire websites dedicated to this purpose, this is the perfect place to share location-specific information, such as details about the franchisee and his or her staff. Perhaps one franchisee is a highly seasoned professional who has special certifications and decades of industry experience. Or perhaps one franchise business in your network has won prestigious awards in its local community, or another is highly involved in local charity work. The franchise's unique web page or website is the perfect place to highlight this information. Blog posts are also another great place to showcase unique qualifications, achievements, or activities of franchisees.
Tip #3
Give your franchisees some flexibility when it comes to their local online marketing strategies. Remember that not all of your franchisees are the same. Your franchisees are located in different geographic locations with their own sets of clientele, which means they may have different marketing needs and opportunities. Your franchisees know their local communities and may have some great insights on how to better reach potential customers in these areas. Listen to what your franchisees have to say and allow for flexibility in your franchise marketing plan on a location-by-location basis, whether that means rethinking your keyword strategies for certain pay per click (PPC) campaigns or offering different online promotions for certain franchise locations. While you do need to maintain brand consistency, you should avoid falling into a one-size-fits-all mentality for your local online marketing solutions.
Tip #4
Get your franchisees on the same page when it comes to measuring return on investment (ROI) for marketing. Set and continually reinforce the standards for how franchisees should measure the costs and financial returns of their marketing efforts. If you have some franchisees using one set of metrics, some franchisees using another set of metrics, and some franchisees not tracking any metrics at all, it will become very difficult to determine how certain marketing efforts are performing for your franchise network as a whole. You can only make smart marketing decisions for your franchise company when you have actual data that shows how profitable your marketing campaigns and channels are. To keep ROI tracking consistent across your network, let your franchisees know which conversions and other metrics they should track, and provide them with the training, technology, and tools they need to access and organize this data.
Solutions to Help You Streamline Your Franchise Network's Online Marketing
Here at Scorpion, we understand that franchise marketing comes with its own set of challenges — especially the challenge of facilitating the marketing efforts of numerous franchisees. To help you simplify this process, we have franchise marketing experts and an integrated marketing platform that can help you streamline various aspects of your franchise's online marketing plan, from your website and social media content to your paid search advertising campaigns. Our platform is especially helpful for streamlining online marketing reporting and analytics. Call Scorpion to learn more about our franchise marketing solutions!
Learn more about franchise marketing by downloading our free guide on online reviews.
---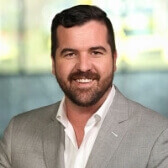 About the Author
Jordan Wilson is the Senior VP of National Brands at Scorpion. For nearly a decade, he has worked with businesses of all sizes, from Fortune 500 companies to franchises at the local level. Professionally and personally, Jordan fosters the relationships he develops with his clients, always striving to exceed their goals and expectations. Jordan graduated from the University of Mobile where he played college soccer and won the National Championship in 2002. He is an avid traveler, and he loves a good Irish Pub, LSU Football, and spending time with his family.