Website builders vary greatly in terms of features, functions, and support they offer.
Not so long ago, only those with advanced coding skills could create splendid websites for businesses. Nowadays, there's no need for any super-techy abilities. You can create an engaging and high-functioning website for your small business easily. No grand budget is required.
But why is having a website for your small business so important? Because 26% of U.S. consumers don't trust a brand that doesn't have a website. Consumers want constant access to a brand and its information, products, and services. Having this available online proves that your business is professional, relevant, and credible.
The good thing is, you can create or improve your website quickly through one of many available website tools. We outline the best site builders out there to help you make a perfect pick for your business, listing the pros and cons of each. These will aid you in boosting your online presence and your company's success.
What to Consider When Choosing a Website Builder
Before looking at your website builder choices, you may want to consider some factors that could affect your final decision. For instance, do you know your budget for website development? You may first want to get together with your team and decide on the funding.
Some website builders offer completely free plans, while others charge monthly or annual fees. Website builders with fixed prices can provide more features and integrations. For instance, with many paid plans, you can integrate your marketing campaigns straight into your website instead of having to toggle back and forth between two programs.
Think about what your site will be used for, too. Are you creating a website that's purely focused on sales? Or are you looking to design an in-depth portfolio of your company's work? Various website builders will be better suited for different purposes, so you want to make sure you pick the option that will best fit your needs.
2023's Best Website Builders for Small Businesses
The time needed to create your site
Which templates you'd like to use
Ease-of-use
Plug-in options
Best Website Builder for 2023
Once you've settled on your website needs and wants, you are ready to assess your prospects. Below are the top website tools to build your small business site in 2023. You should be able to find at least one that meets your needs.
1. Best-Looking Website Builder: Squarespace
Launched nearly twenty years ago, Squarespace has climbed its way to the top of many website builder lists. It's understandable why - its templates and designs are sleek, modern, and mobile-friendly. With 80% of internet users accessing websites via their mobile phone, having the same website experience on a cell phone as on a computer is essential.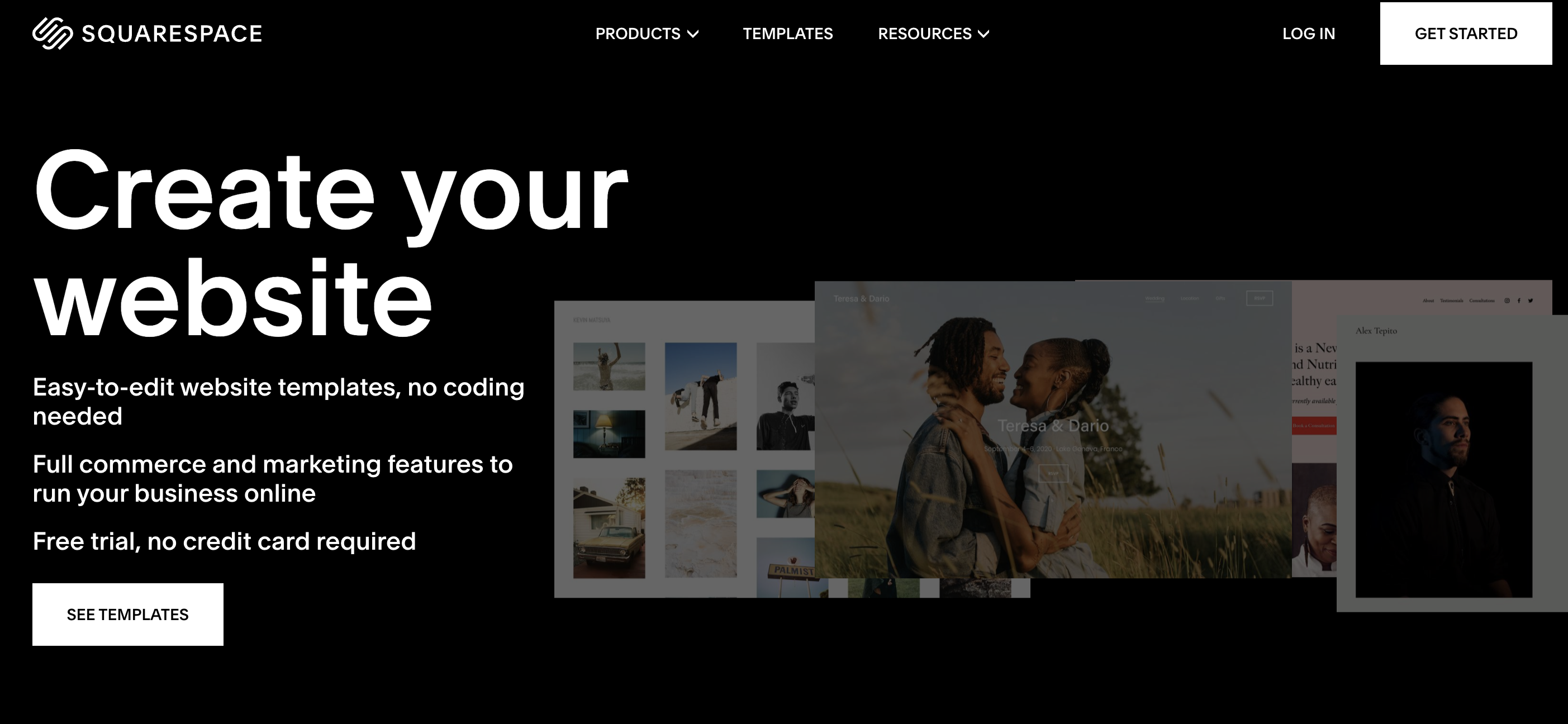 Besides looking good, Squarespace's website editor is also easy to use. You can add text, images, content boxes, and other necessary website materials in a few simple clicks. If you want to get techy, you can install many extensions, such as e-commerce tools for payments, integrations for personalized marketing, and search engine optimization (SEO) plug-ins to improve website traffic.
However, there is a slight learning curve when first using Squarespace, as the website builder has its way of doing things. If you need an website as soon as possible, you may want to go for a more universal one such as Wix and consider Squarespace when you're ready to upgrade.
At Squarespace, pricing starts at $12 a month for personal use and goes up to $40 a month for advanced commerce use. The site builder is best for artists, designers, or businesses wanting to display their visual efforts.
Pros:
Professional, visually appealing templates
User-friendly editor
Instant chat support
Cons:
Slower page load speed compared to competitors
No free version
2. Most Customizable Website Builder: Wix
If you prefer complete freedom when building your website, you can't go wrong with Wix. The tool has a never-ending amount of website customization elements so that you can create the ultimate site from scratch. Even better, its features and capabilities are not limited to specific business types. Wix is an excellent choice for any business market.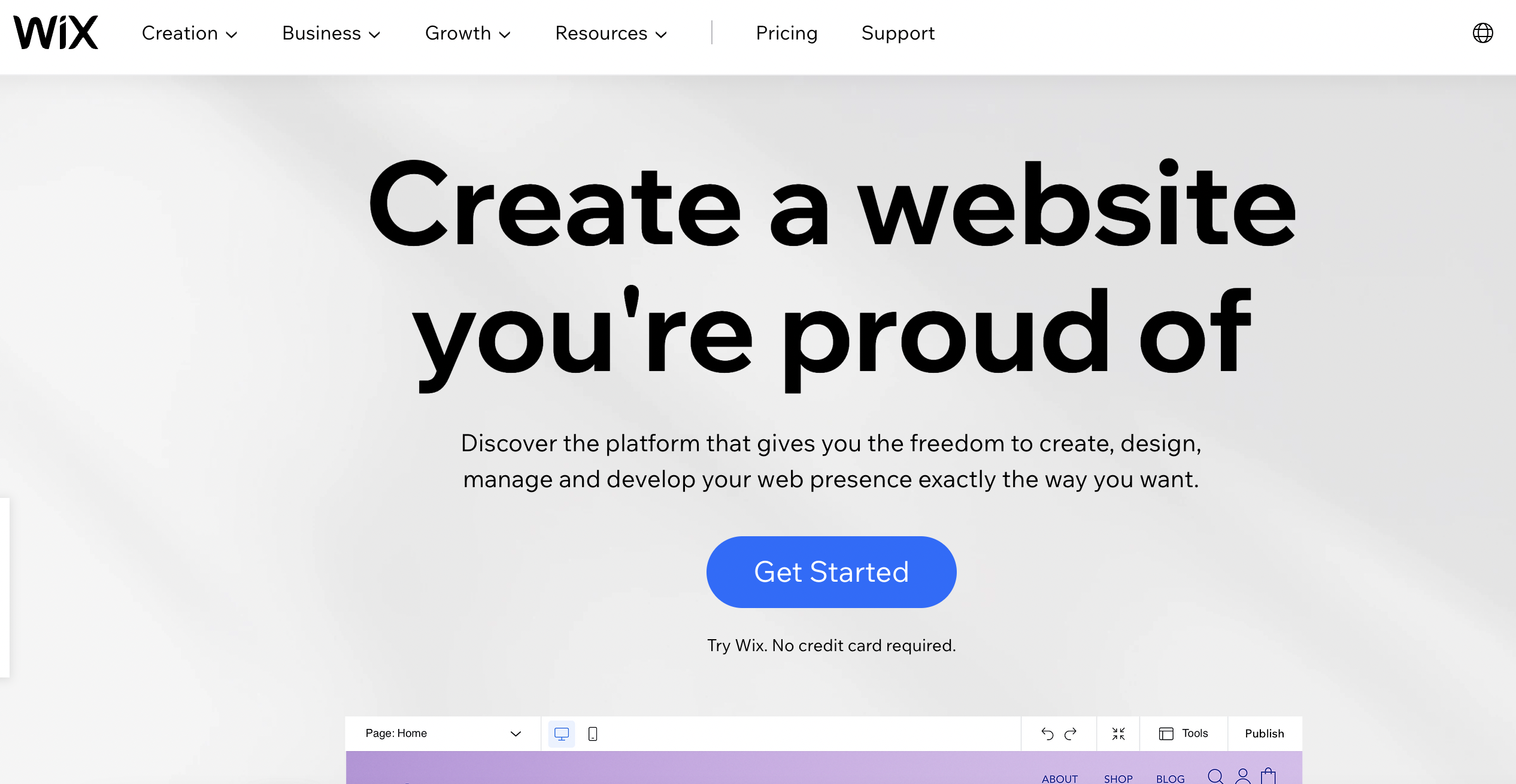 Where Wix stands out from the rest is the unparalleled drag-and-drop editor. Unlike other website builders, Wix's editing tool lets you move the features on your page pixel-by-pixel. Such precise editing means you can get the exact layout you'd like without compromising.
While it does offer some good editing abilities, Wix can seem a little overwhelming at first. Luckily, the website builder does offer a variety of support from its staff. Questions are quickly answered via phone, email, chat, or through one of the company's in-depth site guides.
There is a free version of Wix, though compared to premium plans, its capabilities are limited. Paid plans start at $14 per month and go up to $500 per month. Wix is particularly useful for e-commerce sites, though it's an overall good choice for beginners.
Pros:
Unique drag-and-drop editor
Wix App Market has over 300 website apps
Automatic website backup
Cons:
Expensive pricing plans
Difficult to change site templates
3. Most Popular Website Creator: WordPress
The chances are you've come across a website powered by WordPress at least once while using the web. That's because many businesses trust this content management system (CMS) company. Big-name companies like Facebook, Microsoft, and The Walt Disney Company use WordPress, making it an option worth considering.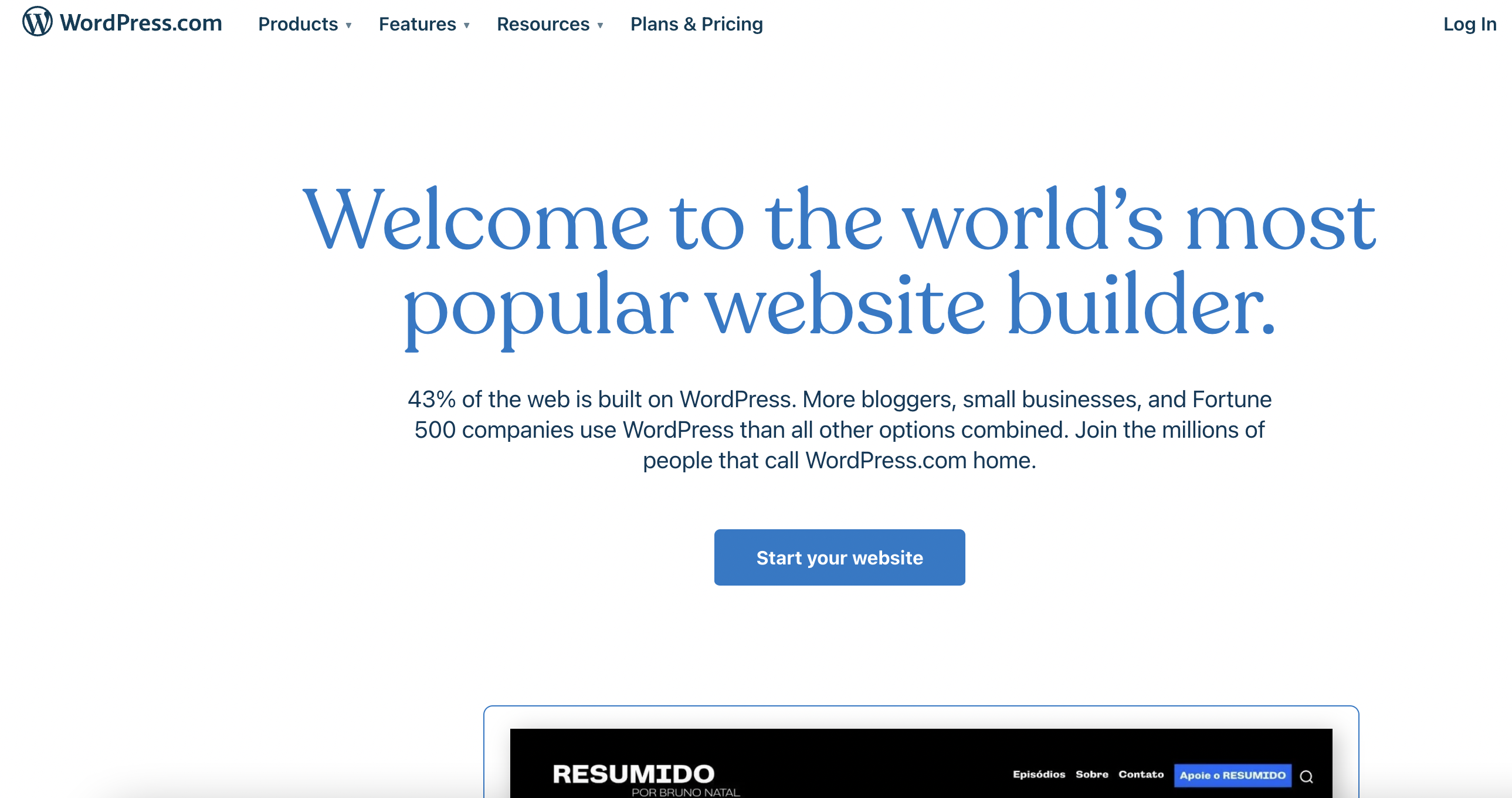 What makes WordPress different than others on this list is its open-source software. The program gives you complete control of your website building. There's no third-party hosting. You can do just about anything you'd like with the site.
With over 55,000 plug-ins available, you can pick and choose features for any need you have for your business. You can also choose among thousands of templates ranging from high-end professional options to artsy-oriented ones. Another advantage is that WordPress works in over 75 languages, which makes it an ideal choice for multilingual businesses.
If you're a complete newbie to website building, having to deal with purchasing a domain name, finding a hosting company, and completing website maintenance on your own might be a lot to handle. As a result, WordPress is a good choice for those with some website-building experience, although both small and big businesses can use it.
While WordPress itself is free to use, you'll have to factor in the cost of your domain and host and the use of premium themes and plug-ins. As such, the actual cost of WordPress varies greatly.
Pros:
Complete control without outside limitations
Thousands of plug-ins (with many 100% free)
Frequent updates to improve bugs
Cons:
The set-up process is long
Users keep up with site security on their own
4. Best For Support In Using Website Tools: Scorpion
Last but not least, we have Scorpion. If you don't want to deal with web hosting, web design, a site builder, or choosing a website template that matches your brand then leave it to Scorpion and its website design team. Blending technology and marketing solutions, Scorpion uniquely empowers small businesses. It aids local brands across various sectors, with some of the most popular fields including home services, law firms, and healthcare organizations. As part of Scorpion technology services, you can receive website design and management tools to launch or improve your current website.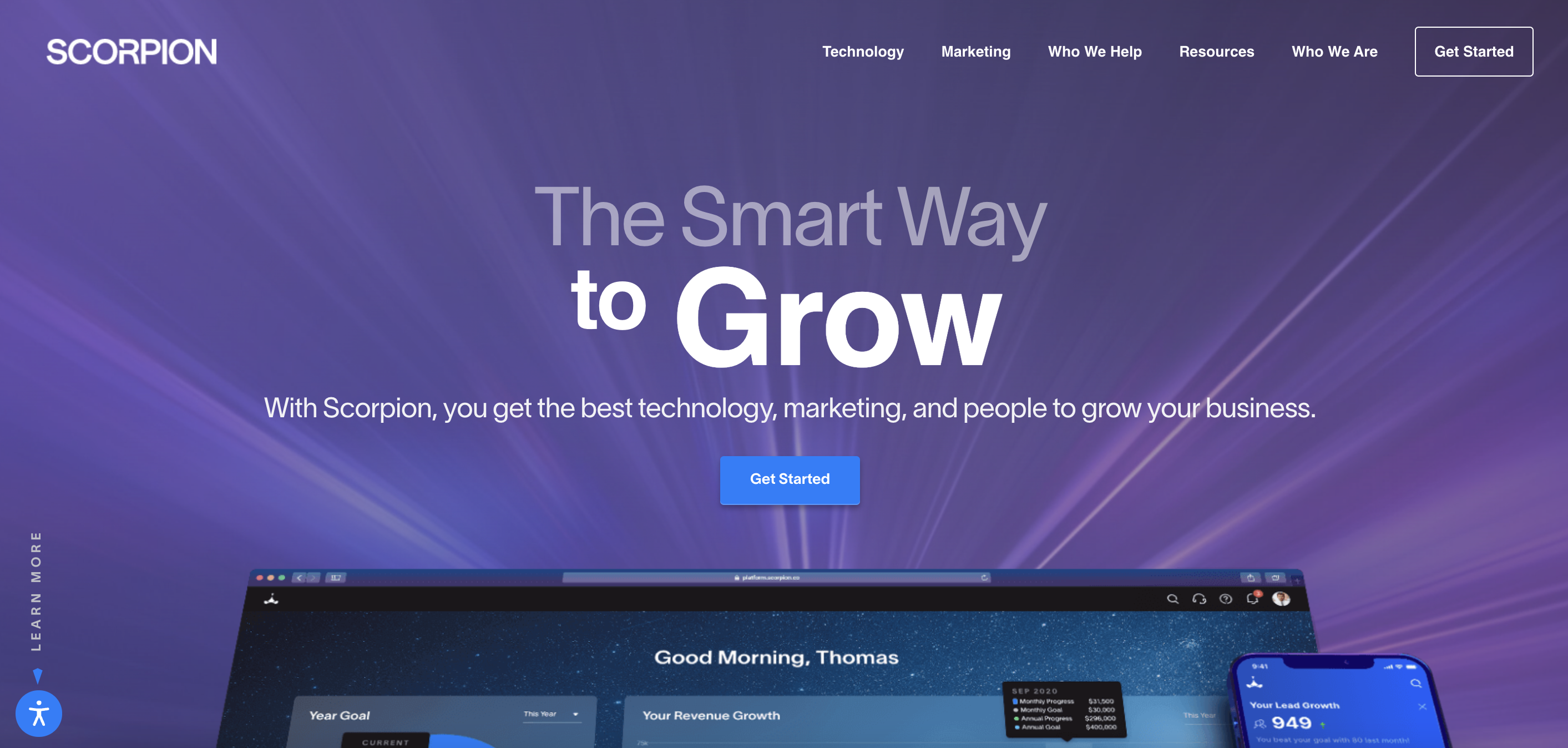 Whereas other website tools require you to build everything yourself, Scorpion is about developing partnerships. You get to work with a dedicated team from the beginning by first receiving a consultation to talk about your website needs. From there, you can use Scorpion's website platform to add, change, or remove web content however and whenever you'd like. Moreover, a website expert is always ready to answer inquiries and potential questions.
If you're up for a solo journey, you might not need a website partnership. Nevertheless, it's always good to have assistance along the way. The teamwork with Scorpion can help you get up and running in no time.
To sum things up, Scorpion is a good choice for all small local businesses, whether early starters or experienced professionals. When it comes to pricing, Scorpion develops custom plans based on your business. The cost will depend on your needs and chosen services. If you want a partner to run your marketing for you then Scorpion is the one to look for. 
Pros:
Team of experts ready to help
Easy-to-use website management platform
Up-to-date website design options
Cons:
Not the best fit for those who'd prefer to go solo
Create Your Dream Website Today
Using the right website tools helps provide the latest and greatest information about your company to your customers.
That wraps up our list of the best website tools to start using in 2023. With the digital world expanding, it's more important than ever to have a website that both you and your customers love. To start developing your online presence, think about what you need and would like to see on your site. Is the design important? Or are you more concerned about which features to incorporate? Perhaps you're just not sure and would appreciate all the advice you can get.
If this is the case, the Scorpion team is ready to take on any desire you may have with your site and bring the best of your small business online. Get in touch today and start getting the virtual attention you deserve.